Vol. 3, No. 1 , 1997, Page 1&3&7

ALCOHOLISM: CAN YOUR GENES DRIVE YOU TO DRINK?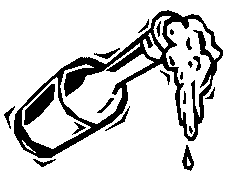 "Drunkards beget drunkards," Plutarch said. While his language was blunt, his message was true: alcoholism often runs in families. One form of alcoholism in particular, which begins in the teens or early adulthood and is linked to sociopathic behavior, appears to be passed down from generation to generation.
Why are some family trees so blighted by alcoholism? For decades, familial alcoholism was blamed on bad environment or weak character. For more than three decades, however, studies have consistently and convincingly demonstrated that genes are more important than upbringing in determining a person's likelihood of developing alcoholism. In Alcohol and the Addictive Brain, researcher Kenneth Blum summarizes the findings of this research:
Children of alcoholics are approximately four times as likely to become alcoholics as children of non-alcoholics, even when the children of alcoholics are separated from their biological parents at birth and reared by non-alcoholic parents.

Children of non-alcoholic parents have a low rate of alcoholism, even when adopted by alcoholic parents.

There is a 25-50 percent lifetime risk of alcoholism among sons and brothers of severely alcoholic men.

Monozygotic ("identical") twins of alcoholics are at significantly higher risk of developing alcoholism than dizygotic ("fraternal") twins of alcoholics.
Recent data continue to show that nature plays a greater role in alcoholism than nurture. In a 1996 study, for instance, Matt McGue et al. evaluated 653 adopted adolescents and their adoptive parents, as well as other adopted children or biological children in the families. The researchers found "no statistically significant correlations between adolescent alcohol involvement and [adoptive] parent problem drinking" among the adopted children. Birth offspring, on the other hand, tended to drink heavily if their parents did. Teenage girls' drinking patterns resembled those of their biological mothers, and teenage boys' drinking patterns resembled those of their biological fathers.
An earlier large-scale study of Swedish adoptees, conducted by C. Robert Cloninger et al. in 1981 and recently replicated by Soren Sigvardsson et al., is of particular interest to criminologists because, in addition to finding a strong genetic influence on alcoholism, it identified two types of alcoholics:
"Type 1" alcoholism, Cloninger et al. reported, occurs in both men and women, requires both genetic and environmental influences, and begins fairly late in life.

"Type II" alcoholism, they found, is seen primarily in men, is overwhelmingly genetic in origin, begins during adolescence or early adulthood, and is usually associated with criminal behavior. "Predisposing factors for this type of alcoholism," Cloninger and colleagues reported, "generally included severe alcoholism in the birth father that required extensive treatment and frequently was associated with severe criminality."
While study findings vary-some studies, for instance, find a much stronger genetic influence on female alcoholism than Cloninger et al. did-virtually all show that genes exercise a powerful effect on the disorder. And animal studies agree: researchers have bred rats and mice that guzzle alcohol and ignore plain water, and have created strains of rodents that have a harder-than-normal time withdrawing from alcohol.
What causes alcoholism?
Researchers agree that there is no one "alcoholism gene." Rather, a number of genes may increase the risk of alcoholism by affecting brain levels of, or sensitivity to, dopamine, serotonin, GABA, norepinephrine, neuropeptides, and various hormones and enzymes.
Blum et al., who have identified a dopamine receptor gene variant that they suspect is a "major player" in alcoholism, believe genetic abnormalities in alcoholics and other substance abusers cause what they call "reward deficiency syndrome." The normal brain, Blum et al. say, reacts to pleasant everyday events with a "reward cascade" of brain chemicals that create a mood of well- being. Genetic abnormalities in alcoholics and drug abusers may disrupt this reward cascade, they say, "supplant[ing] an individual's feeling of well-being with anxiety, anger, or a craving for a substance that can alleviate the negative emotions." In short, Blum and colleagues say, alcoholics and other substance abusers are suffering from "a form of sensory deprivation of the brain's pleasure mechanisms."
While Blum and other researchers search for genes linked to addiction, some scientists are identifying biochemical abnormalities in alcoholics as well as in their children. Among recent findings:
Marc Schuckit and Tom Smith report evidence that people who "hold their liquor well" are at much higher risk of becoming alcoholics than those who become intoxicated more easily.

The researchers followed 450 sons of alcoholic and non-alcoholic fathers for eight years. They found that "approximately 40 percent of the sons of alcoholics but fewer than 10 percent of the control subjects demonstrated remarkably low levels of reaction to the alcohol they were given." Subjects' reactions to alcohol at age 20, they say, were "associated with future alcoholism" in a manner independent of the drinking practices of participants at the outset of the study.

Jan Volavka et al. administered electroencephalograms (EEGs) to 42 sons of alcoholic fathers and 22 controls after giving the subjects alcohol. The researchers report that "a smaller EEG alpha frequency response to alcohol at age 19 years was related to the development of alcohol dependence, and [to] high quantity and frequency of alcohol consumption 10 years later." This finding, the researchers say, "is consistent with the increasing evidence that low sensitivity to alcohol is a risk factor for the development of alcoholism."

Studies of sons of male alcoholics (SOMAs) reveal an increased frequency of deficits in verbal skills, abstract thinking and planning, perceptual motor skills, visuospatial abilities, and learning and memory. Robert Pihl and Kenneth Bruce note that SOMAs also frequency exhibit impulsiveness, attention deficits, hyperactivity, and poor emotional regulation-a behavior pattern "similar to behavior patterns in people with mild dysfunction of the prefrontal cortex." Strong evidence linking frontal lobe dysfunction to alcoholism risk recently been reported by A. Wallace Deckel et al. (See Crime Times, Vol. 3, No. 1, Page 6).

Marie-Lourdes Fils-Aime and fellow researchers compared early-onset and late-onset alcoholics. They found that "early onset alcoholics. have a more severe course of alcoholism," and that subjects in this group had lower mean cerebrospinal fluid (CSF) levels of 5-HIAA, the major metabolite of serotonin.

Christina Gianoulakis et al. gave doses of ethanol to subjects with and without family histories of alcoholism. They found that the pituitary B-endorphin system of the positive-history subjects "shows an enhanced sensitivity to ethanol." Many researchers believe that abnormalities in the brain's synthesis of or sensitivity to endorphins-natural opium-like chemicals in the brain-are linked to alcoholism.
These and other findings are altering traditional ideas about alcoholism and leading to new treatments that-while not discounting the usefulness of Alcoholics Anonymous and similar programs-emphasize the importance of biological interventions. Drugs such as naltrexone, an opioid antagonist, are being tested with encouraging results, and serotonin-altering antidepressants are benefiting a number of alcoholics with concurrent depression.
Taking a different approach, Blum and colleagues have developed a nutritional therapy called SAAVE, designed to "load" the alcoholic's brain with amino acids and other nutrients needed to build neurotransmitters or enhance their effectiveness. In an open trial of 15 alcoholics using SAAVE and a control group of 15 alcoholics not using the formula, Raymond Brown found that during the first 10 weeks, 53 percent of the controls but only 13 percent of the SAAVE group relapsed. After ten months, 11 of the original 15 alcoholics using SAAVE had remained sober.
Other therapies are in the offing, and Blum believes that in the remainder of this century and the first few decades of the next, "we will see neurobiology, neuropharmacology, biogenetics, psychiatry, and medicine moving forward in close coordination to reduce the devastating behavioral and social costs of [alcoholics' and addicts'] faulty brain function."
-----
Gianoulakis et al., Fils-Aime et al., Volavka et al., and Schuckit/Smith articles appeared in the March 1996 issue of Archives of General Psychiatry. Additional research by Schuckit et al. appeared in the July 1996 issue of Journal of Studies on Alcohol. Cloninger et al. study and Sigvardsson et al. study were cited in Alcohol Health and Research World, Winter 1996. McGue et al. study was cited in the Brown University Digest of Addiction Theory and Application June 1996. Blum et al.'s research was summarized in American Scientist, March-April 1996. Findings of Pihl and Bruce appeared in Alcohol Health and Research World, Spring 1995. For full references, send SASE to Crime Times.