Autism Is Our Specialty
Welcome to the Four Leaf Press website! In 1993 my company published Autism Treatment Guide with the intent of offering a concise, objectively written guide for treatment options for autism. As the mother of a child with autism, I felt it was important for people to have all the information in one place so we could stop reinventing the wheel. We have expanded to offer products that we have found helpful, informative and useful. Take a look and see for yourself. Thanks for visiting us. We would enjoy any feedback you wish to share. --Elizabeth King Gerlach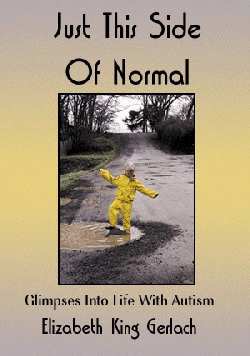 Just This Side of Normal: Glimpses Into Life With Autism by Elizabeth K. Gerlach
Just This Side of Normal: Glimpses Into Life with Autism, by Elizabeth King Gerlach.
Winner of this year's Autism Society of America's 'Literary Work
of the Year.'
Here is what the reviewers are saying about this powerful memoir:
"Elizabeth King Gerlach's book tells it like it is. Her story has it all-- happy, sad, serious, funny--and all at the same time. It's must reading for parents and important reading for professionals."
--Stephen M. Edelson, PhD., Director of the Center for the Study of Autism.
"In this collection of vignettes about raising a child with autism, Elizabeth King Gerlach writes with tenderness, humor, grace, honesty and a calm good sense. She is able to convey the confusions, distress, and yearnings of a parent deeply worried about her son, but also the moments of sheer joyfulness at watching this engagingly 'different' child learn and grow."
--Jane Taylor McDonnell, Author of News From the Border.
Click here to read two vignettes from Just This Side of Normal: Glimpses Into Life with Autism.
$19.95 per copy +$2.00 Postage and Handling. ($3.50 Outside the US.)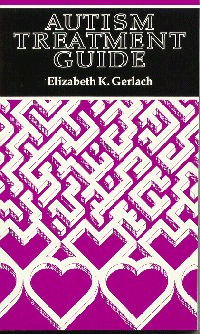 Autism Treatment Guide by Elizabeth K. Gerlach
Our best-seller! A resource guide for parents and professionals. This comprehensive guide outlines basic facts, research information and effective treatment options for autism. Objectively written, it contains extensive resource listings and suggested readings. Updated regularly. Gerlach received the Autism Society of America's "Outstanding Parent Achievement" Award for this book.
$14.95 (Postage Paid)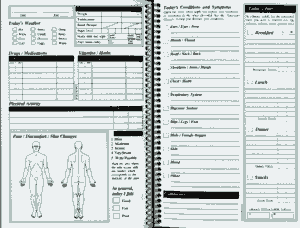 Memory Minder Personal Health Journal
Record personal health data quickly and accurately with this easy to use checklist journal. Chart diet, medications, sleep habits and more.
An efficient tool for those wanting to monitor the health of individuals with special needs. Easy to use!
$15.95 (Postage Paid)
Coloring Books/Cassettes
Children with autism often love facts! These coloring books and cassettes are loaded with factual information, dramatic narration, sound effects and music. A great way for kids of all ages to learn and have fun! Choose six story books and cassettes from 48 different titles. Storage case included. Click here to view the titles and album.

Six Cassette Library Album

$49.95 (Postage Paid)






Reach Out Through Art
Eight Different Designs!
Original greeting cards featuring the artwork of children with autism. On the back of each card is a note about the artist and a definition of autism. A beautiful way to share your thoughts and the talent of children with autism while increasing autism awareness. Set of eight different cards suitable for many occasions. Brightly colored envelopes to match.
$10.50 (Postage Paid)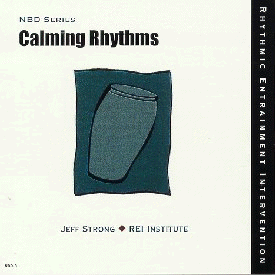 Rhythmic Entrainment Intervention Calming Rhythms CD or Tape
Developed by Jeff Strong of the REI Institute

The REI Institute's "Calming Rhythms" audio recording is a safe and effective calming and focusing aid for individuals with developmental disabilities. This unique recording has been shown to help alleviate episodes of heightened anxiety and aggression in individuals with autism, ADD and related developmental disabilities. An audio recording of Rhythmic Entrainment Intervention drumming rhythms, "Calming Rhythms" is successfully being used by teachers, therapists and families alike.

$30 (Postage Paid)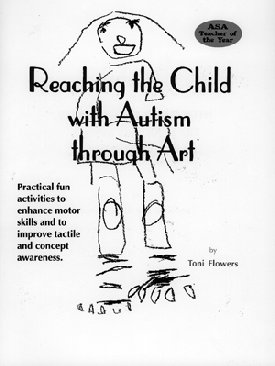 Reaching the Child with Autism through Art by Toni Flowers
For use by parents or professionals, this book offers practical, fun activities to enhance motor skills and to improve tactile concept and awareness. Flowers is an Autism Society of America "Teacher of the Year."
$24.95 (Postage Paid)
Train Time CD-Rom by LocuTour Multimedia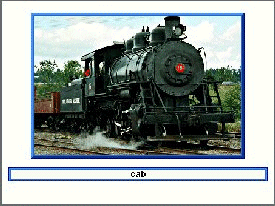 "First get their attention*** then teach them."
Train Time has eight exercises for visual, auditory and language processing. The learning programs were developed with a train theme. Trains have a way of capturing the attention of many children and adults like no other subject.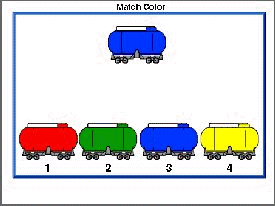 Once we've captured interest and sparked curiosity, we can teach those very important language concepts of sound segmentation, sound blending, syllable segmentation, reading, spelling and speech.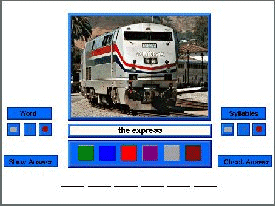 In addition to language skills, attention must be developed. Sustaining, dividing and shifting attention are critical elements in lengthening attention span and learning to rapidly shift between stimuli. It is the ability to sustain, then shift between different auditory and visual stimuli, that allows an individual to perceive the "wholeness" of visual and auditory perceptions.
Structured to be especially appealing to persons with Autism, PDD, or Asperger's Syndrome, this CD-Rom is available for:
$193.00 (Postage Paid)
---
Prices include Shipping and Handling.
Outside U.S. please add $3.00 per item ordered.
Three Ways to Order:
Write:
Four Leaf Press
PO Box 23502
Eugene, OR 97402
(541) 485-4938
Please make check/money order payable to: Four Leaf Press
Call Toll Free in the U.S.:
(800) 322-1883

Email:
FourLeafPr@aol.com